Reduce Belly Fat in 2023!
Jasmine Green Tea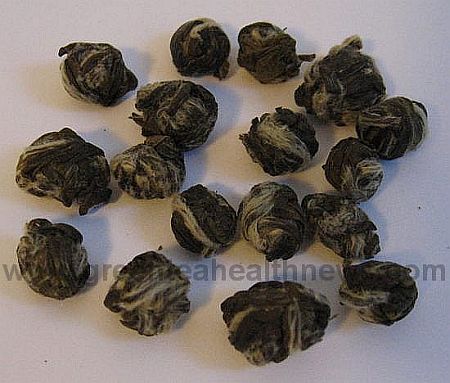 Love Jasmine green tea?
It's a great choice, whether you are dining on spicy food like curry, novelle dishes like flower salads, or want to refresh yourself and loved ones with a fragrant "time of beauty."
There are a lot of different ones to sample. Here are some that are available, with resources.


Chung Feng

Chung-Hao Special Grade

Chur She Swallow's Tongue

Gold Dragon

Monkey King

Mountain Spring

Pearls (Mo Li Zhen Zhu)

Downy Pearls

Downy Pearls Buddha Tears

Dragon Phoenix Pearls

Dragon Tears

Organic Pearls

Shanghai Lychee Jasmin

Silver Buds

Silver Hair

With Flowers

Yinhao Mo Li

Yin Hao Special Grade

Flavored:

with Ginger

with Orange

with Vanilla
Learn more about gourmet teas with a free subscription to the Green Tea Health Newsletter:
Social Networking
Are you a member of a social networking site like
Facebook
,
Google +
, or the popular
Twitter
? If you like my website, share it with your friends and family! I appreciate it also, and thank you in advance.
or email it:
http://www.green-tea-health-news.com/jasmine-green-tea.html


Did you like this page on jasmine green tea? Here are more gourmet teas

This page was last updated by Sharon Jones.

Lemon Balm, Anxiety, Stress, Hyperactivity, Memory, Antiviral Research, and more by Sharon Jones With over 250 pages and 540 referenced scientific studies Order by title from Amazon Kindle now

Lemon Balm, Anxiety, Stress, Hyperactivity, Memory, Antiviral Research, and more by Sharon Jones With over 250 pages and 540 referenced scientific studies, this book includes Growing lemon balm, Alzheimer's Anti-bacterial, anti-fungal, anti-microbial, and anti-viral activities Anti-inflammatory and antioxidant properties, Anxiety Belly fat, Cancer, Cosmetics, Depression, Diabetes, Heart disease Herpes and cold sores, Hyperactivity, Indigestion, Insomnia Irritable bowel syndrome, Memory improvement, Obesity Premenstrual syndrome, Spinal cord injury, Stress, Thyroid, Ulcers Order by title from Amazon Kindle now